Detective Conan Chapter 964 [Raw & English Version]
Detective Conan Chap 964, read detective Conan 964 [Raw, Text spoiler & English version] online free at Revozin.com Read the latest chapter of Detective Conan in English and raw version. Detective Conan 964. Thank you for visiting our website -Revozin.com.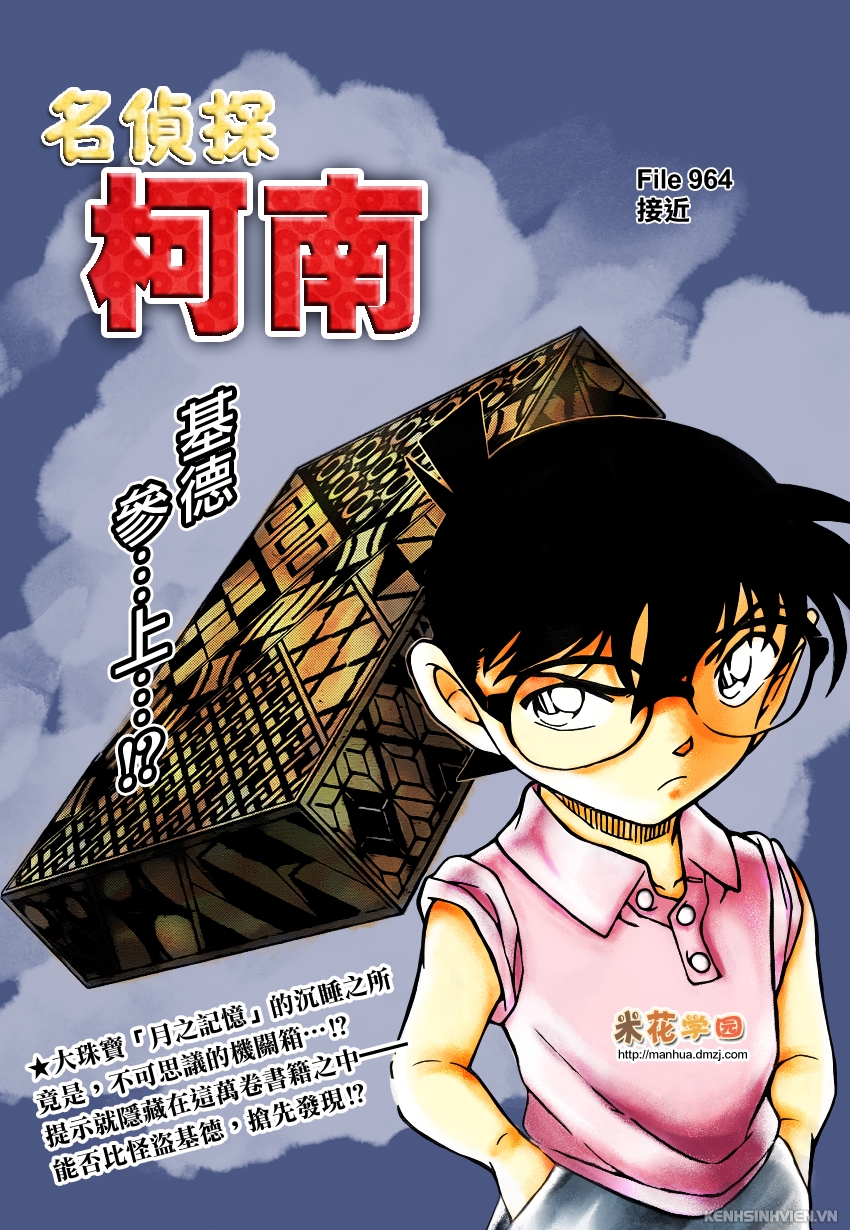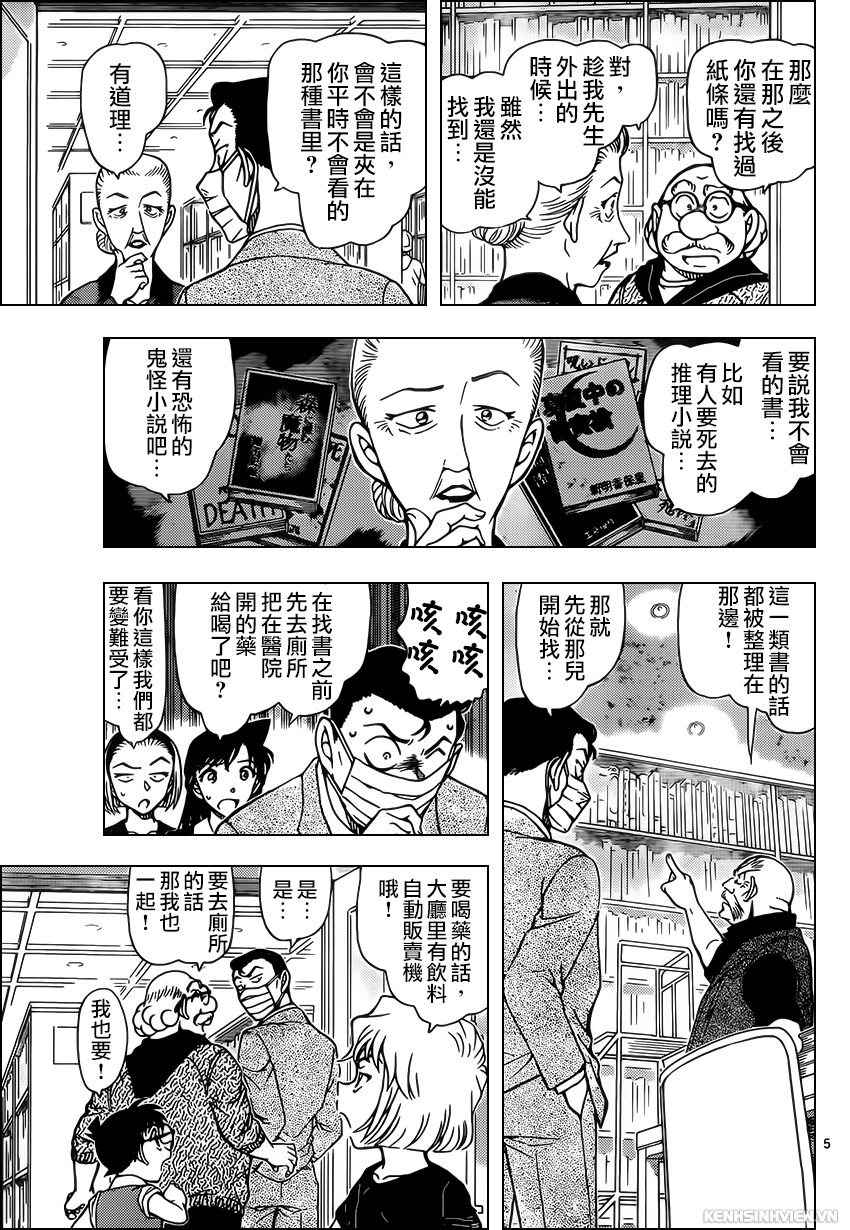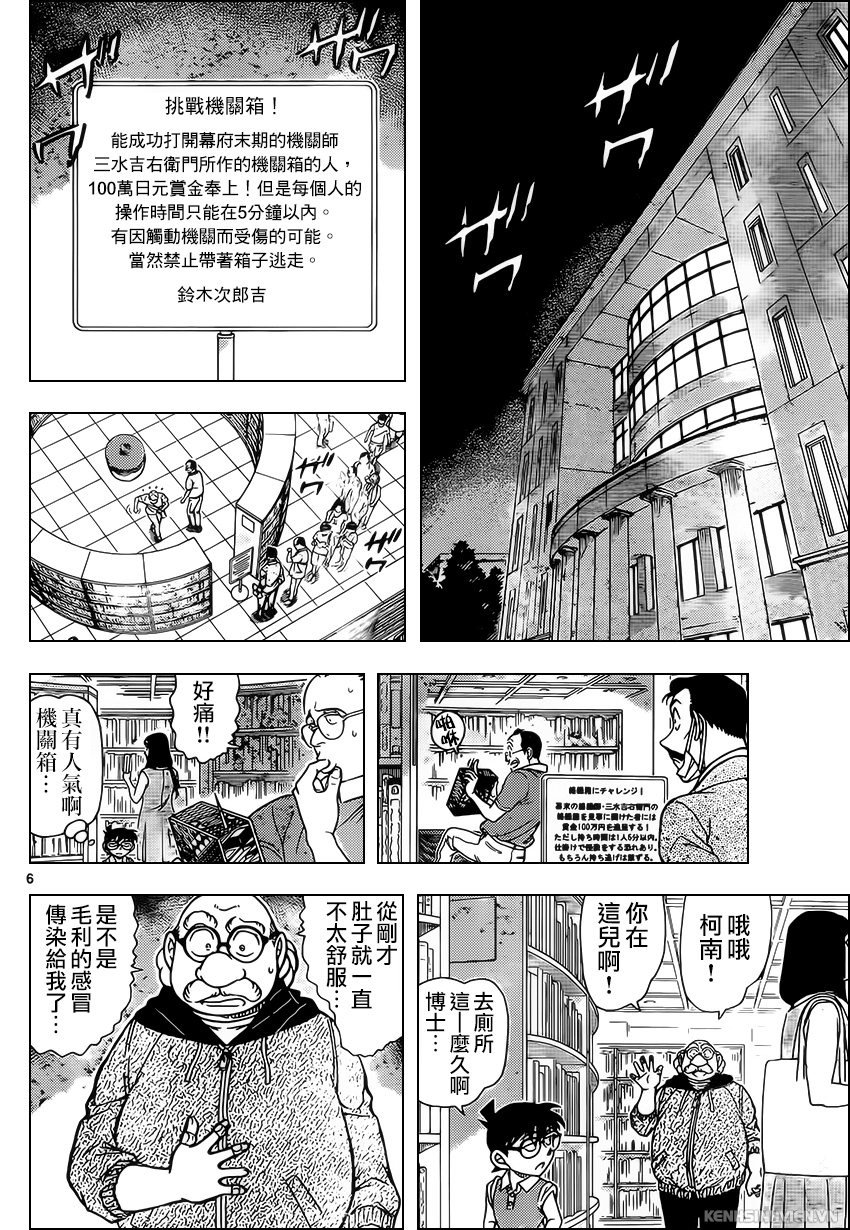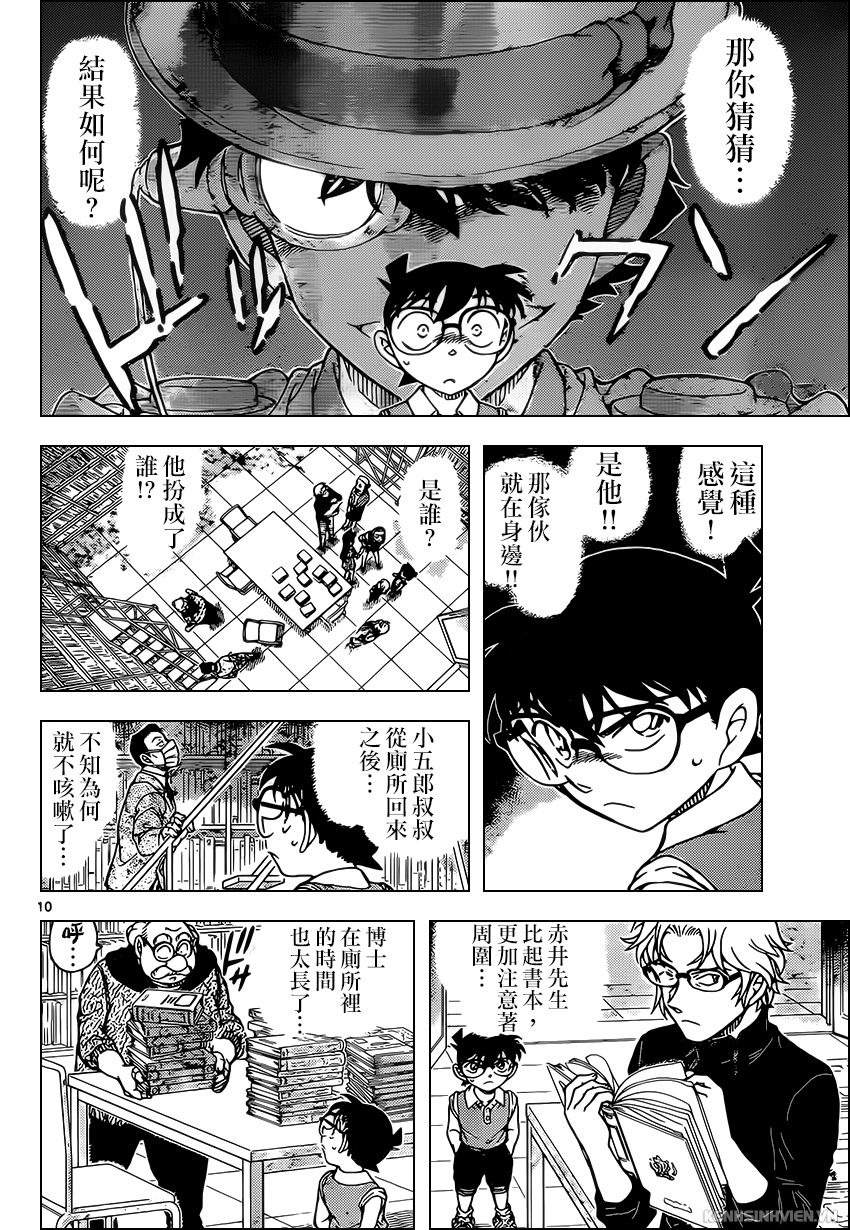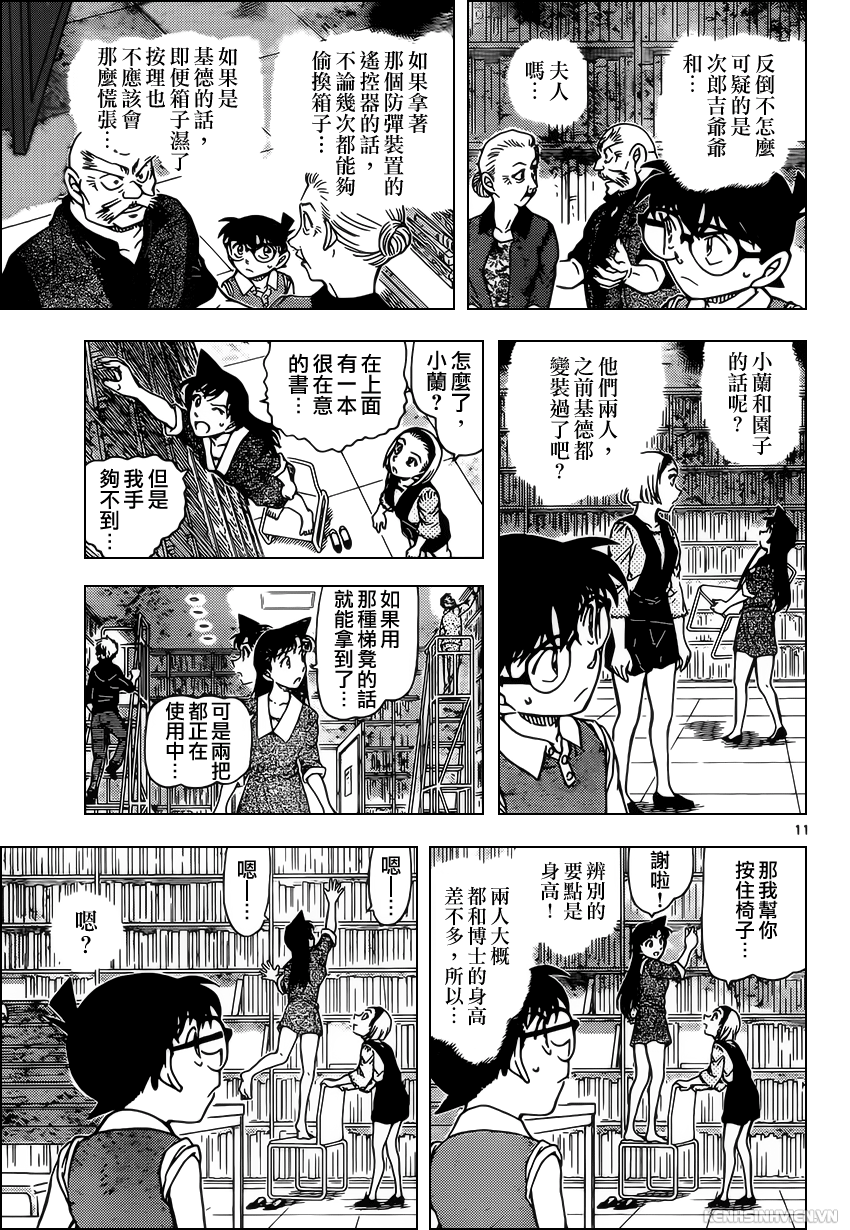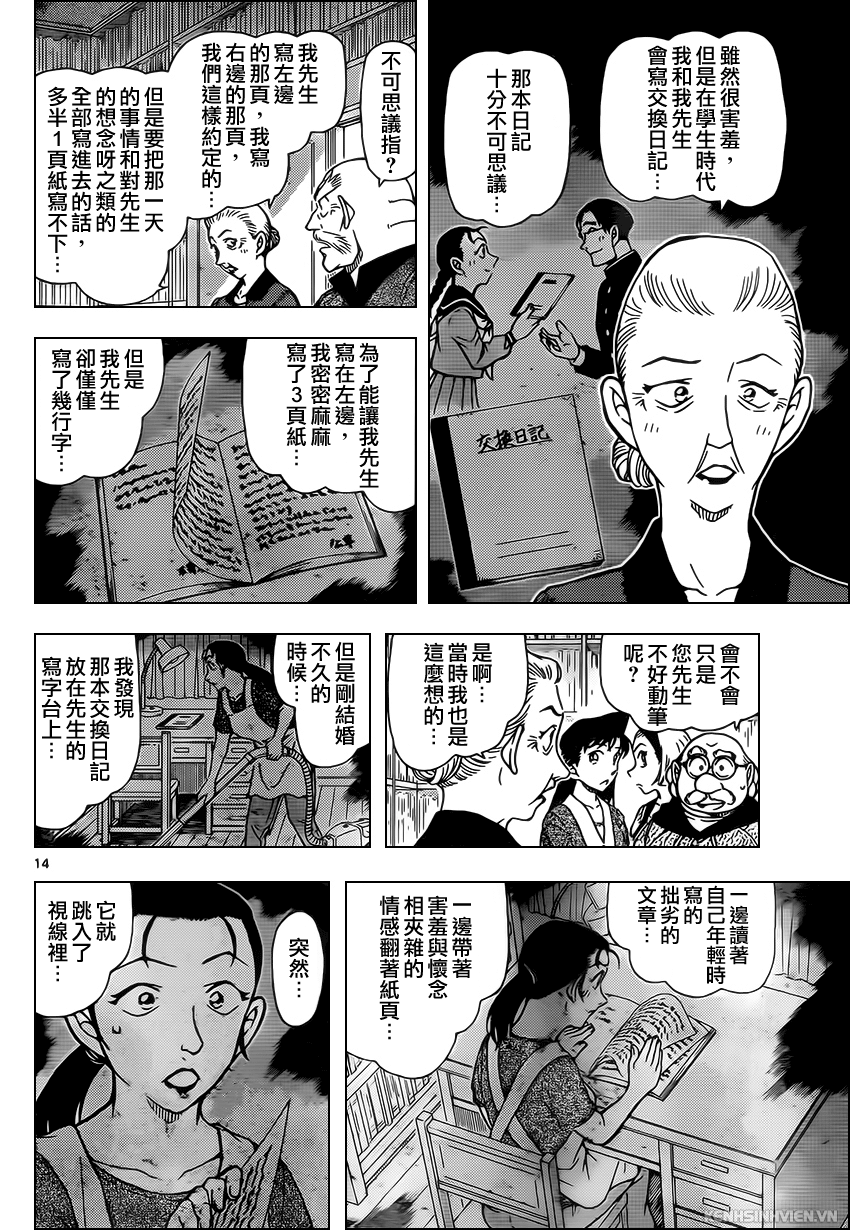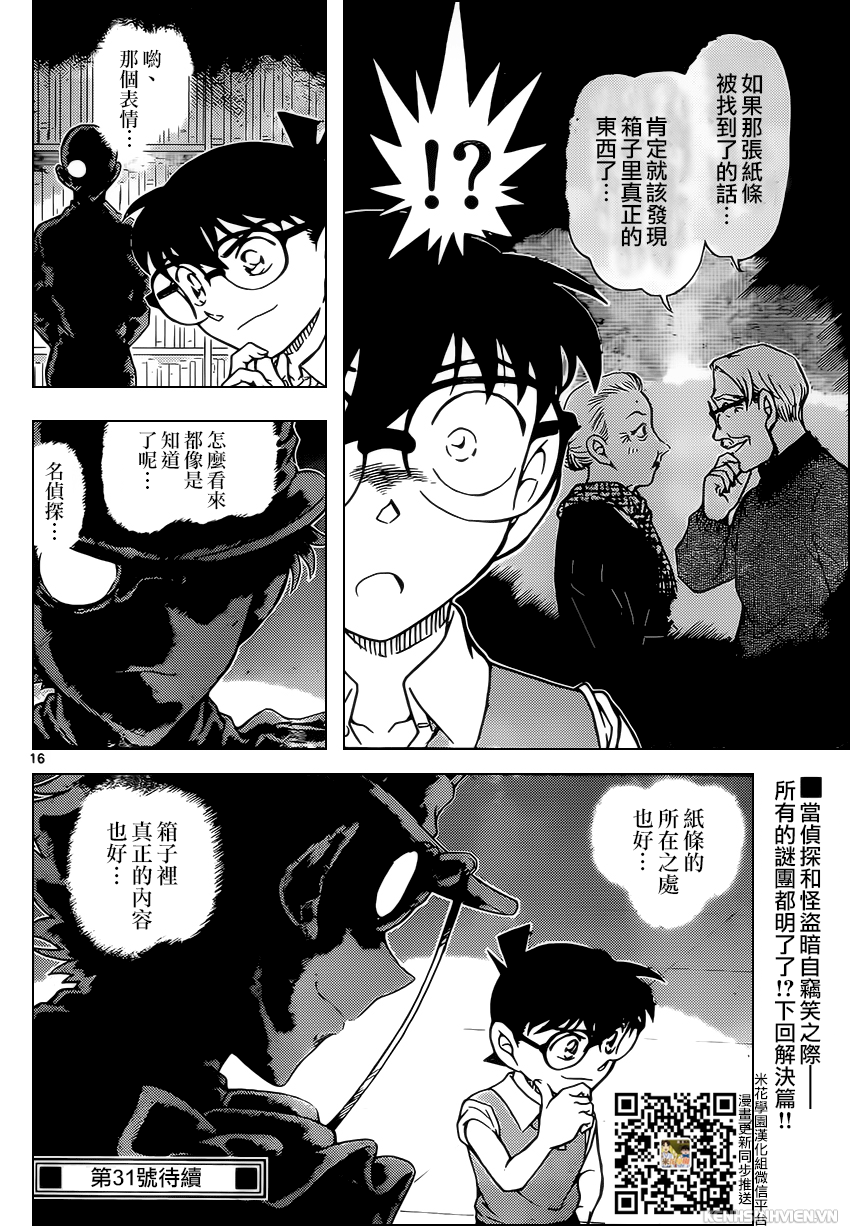 File 964: Approach
Trying to find the memo inside of over 10,000 books is hard.
Jirokichi alreay tried, like Kogoro, to skim over all books by gathering all the staff but they didn't find it.
The widow brings up something else her late husband had mentioned: "Suppose you find the memo… You should be able to find the contents of the box, too, but…" yet it rather sounded like "you'll never find it". She never asked him "which" book it was because she thought it would be shameful to do so.
Kogoro's coughs are getting worse so Conan & Agasa go to the lobby where there are vending machines: Agasa also goes to the restroom and Conan waits for him.
Kogoro attempts to force the box open again: he ignores the "don't take it away" signpost and tries to jump back from the fence's range yet a new fence drops where he intended to land: Kogoro accidentally spits the drink inside of his mouth and wets the box: the widow quickly rushes to wipe out the liquid yet Conan seems to think something about this.
Kogoro and the others return to the : Ran & Sonoko went to pick flowers so they aren't present: Haibara & Okiya seem to have forgotten what they were doing there and are going over mystery series novels: the widow notices that Okiya's sleeves smell of meat and potatoes stew: Okiya and she begin to talk and Okiya says he likes cooking: Ran and Sonoko come back then: she talks about how she read the cooking book her late husband had bought for her over and over again to the point she opened some holes on it: Sonoko seems eager to meet Kid so she put up some make-on.
Conan then feels Kid's presence: the medicine Kogoro drank seems to be more effective than it'd been insofar, Okiya is scanning the surroudings while pretending to read the books, Agasa took too much time in the toilet… He also thinks he could've disguised as either Ran or Sonoko. Ran picks a chair and climbs on it to try to reach a book in a higher shelf: Conan stares at her tighs and what's beyond them…
Haibara: "Super lewd…"
That asides, Haibara says that everyone but Okiya had an opening in which Kid could've swapped with them but Conan suspects that Kid could've been impersonating Okiya ever since he showed up in the library.
The widow brings up her late husband's exchange diary: he only wrotes a few lines in the pages back when he was a student but shortly after they married she checked out the diary there were 2 pages she supposedly hadn't seen before filled with her late husband's writing: he retrieved it back on that day and she didn't see it again.
It would seem this info might be a clue.
Kid (thinking): "Oho. That guy's face… Looks like you've figured it out too… Detective. Where the paper is and what the box's contents are…"
Side-note: "The thief and the detective gloat: have all mysteries been solved!? Next number: the resolution!
you may also interested in:
detective conan chapter 964
detective conan 964
conan 964
detective conan manga 964
manga detective conan 964
コナン 964 raw
Dear youtuber!
Have you a channel youtube about minecraft?
Do you want to bring your Video to quality visitors?
Do you want your video to appear on our website?
Do you want to become partner with us?
Just 3 steps to become our partner:
Step 1
: Make video review for mod, which you like
Step 2
: Upload this video to youtube and our link to your video description
Step 3
: Send the youtube video link via message to
http://fb.com/revozincom
or leave a comment in the post. We will add your video in the our post, it will help you have more view.
JOIN to get more youtube view with us!!!!