Are You Tom Or Jerry?
Tom and Jerry is a cartoon series, which is familiar with almost children in the world. Check out which character of this cartoon movie does you like most.
Tom and Jerry
Tom and Jerry is written and directed by two animator William Hanna and Joseph Barbera. This film is made from 1940 to 1967 but attracted audience in any level of age. Each episode of Tom & Jerry mostly around a cat named Tom tries to catch Jerry mice. This will lead to many funny situations basing on the smart of Jerry.
Tom and Jerry character
Tom
Tom is a blue/grey domestic cat. Tom' duty is keeping house avoid mouse touch and rob the food. Although stronger than Jerry but Tom's dick and agility does not overtake. In all the battle, Tom couldn't catch Jerry. In some episodes, because having a third party, they are reconciliation.
In other hand, Tom is an amorous cat. His first love is Toott. Toots named Tom as Tommy. However, Tom falls in love with other cat, Toodles Galore.
Jerry
Jerry is a brown domestic mouse. He is very excellent and always finds a solution to get out of hand of Tom. Sometime, he gets trouble because of a bird or a duck that he accidently meets. Meanwhile Tom wants to eat them, Jerry tries to help them escape from Tom.
Butch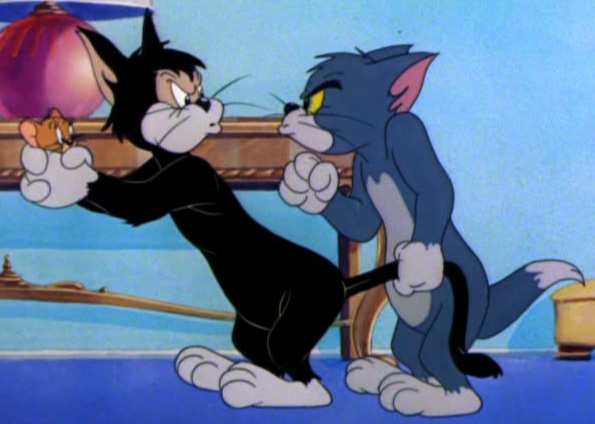 Butch is a black cat which always intent to eat Jerry. He is a competitor of Tom. He is very rich and also loves Toodles Galore. Sometimes, Butch appears as the leader of thug cat includes Meathead and Topsy to oppose Tom.
Toodles Galore
Toodles Galore is a beautiful white cat. Toodles was the only girlfriend appeared more than twice and also the most beloved of Tom. Tom has experienced twice disputes with Butch and Spike / Killer to scramble favor of Toodles. However, Tom is loser.
Dear youtuber!
Have you a channel youtube about minecraft?
Do you want to bring your Video to quality visitors?
Do you want your video to appear on our website?
Do you want to become partner with us?
Just 3 steps to become our partner:
Step 1
: Make video review for mod, which you like
Step 2
: Upload this video to youtube and our link to your video description
Step 3
: Send the youtube video link via message to
http://fb.com/revozincom
or leave a comment in the post. We will add your video in the our post, it will help you have more view.
JOIN to get more youtube view with us!!!!